TECHNOLOGY AT McAULEY
For the first two terms this year, Room 1 has thrived on learning so much in Food Tech over at McAuley. Mr Gasson taught us for the two terms and not only did we have an enormous amount of fun, we learnt incredibly useful cooking skills. These ranged from the safest and most efficient way of chopping onions, to creating deliciously scrumptious burgers, for which we selected a variety of toppings, cheese, tomato, lettuce, gherkins and onion to some unique tasting sauces.
Here are some of our end of Semester comments:
The last 2 terms with you have been the most memorable cooking time ever. I especially loved how we got to make our own designer burgers and improve them, or add other things to them. The skills I have learnt, will be used at home and other places. Your Samoan jokes were absolutely weird but very accurate. Even though we mostly cooked patties the whole time, I never got sick of it. Besides creating our own designer burgers, I LOVED EATING THEM! Your skills make me and the people around me very safe. With me being a girl who couldn't hold a knife properly, all thanks to you I have become the pro-chef I am! I would never have thought I would be one in a million years. Thank you for all you have taught me, it was just fantastic!
Term 2 nearly done and dusted! Thank you very much for teaching us some useful cooking skills that may come in handy in life. Thank you for making our lessons fun, but interesting. Sometimes I may have been a bit skeptical to try the foods but the way you described them always sold me, so I tried, Yay and Yum!. Thank you!
-Madison
_________________________________________________________________________
Mr G,
Thank you so much for teaching us during our 2 terms of manual! You really bring out the best in us when cooking, which is every time we come in! I know we might seem boisterous at times, and we hardly seem to listen to you at all, (looks can be deceiving) but we do appreciate your work and expertise in the kitchen. We can also harness the cooking techniques/skills you've taught us, so that we can teach our families, relatives and friends.
I'm sure I speak for all of us, when I write that we all appreciate what you do, and hope to see you at McAuley next year.
Kiarah
_________________________________________________________________________________
Wow! Term 2 has gone by so fast!
Cooking and baking with you gave me new knowledge and skills about cooking technology. .
It also brought back memories of both me and Grandmama while baking, I loved baking with her, they were special times. Thank you, Mr Gasson.
God bless,
-Verozzi Va'aiva
CAIRTAS CHALLENGE 2019
This year our focus was on South Sudan. We learnt so much about the conflict in South Sudan, the plight of the people living there, those who have had to flee for their lives to neighbouring countries, such as Uganda to seek refuge. It has been highlighted yet again just how lucky we are to have homes, and education and easy access to nutritious food, healthcare, education and so much more.
Our unit of study culminated in the Caritas Challenge, which Room 1 & 2 held in the school hall. Our varied day began with a beautiful liturgy in which we focussed on being People of Peace.
After our liturgy we broke into groups, with half of us making a few trays of tasty treats to be sold at our bake sale the following day, from which the proceeds were sent to Caritas for South Sudan. Those not baking, were fully engaged in creating Peace Doves.
After morning tea we broke into groups to do some unique Anataban artwork. The artwork really reminds us about the desperate need for people to feel free and go about their daily life in peace. In case you are unsure what Anataban is and what the group is about, read the information below:
The Anataban campaign is an artist collective based in Juba, South Sudan. The group uses street theatre, graffiti, murals, sculpture and poetry to foster public discussion about the issues of social injustice and government accountability and transparency. Anataban members see solidarity, courage, integrity, inclusion, non-violence and political neutrality and important concepts guiding their work.
In the afternoon block we completed our artwork and participated in a 'water-walk' in which we walked in pairs carrying buckets of water 4 times around the school, so we walked approximately 45-50 kilometres collectively. The idea behind this was to give us a sense of what it must be like to walk at least 1km every time you need a bucket of water for the daily needs of your family, (for some children this is their responsibility and they cannot go to school as they are required to collect water for the family – there is no time to go to school!)
All in all we definitely feel we've begun to understand the plights of others and the important role each of us play in trying to make a positive difference in another's life.
MAGNETISM
Wow, we had such fun learning about magnetism. Below are some photos of some of the investigations we did and statements about a few things we have learnt:
We learnt that magnets have NORTH and SOUTH poles.
A magnet's force is strongest at its poles.
Opposite poles ATTRACT each other – that's when they pull together.
Like poles (i.e. poles that are the same) REPEL each other – that's when they push each other away.
Magnets can lose their magnetism. Some ways this can happen is if they are dropped, deliberately banged, or placed in high temperatures, they can even lose their magnetism if they are kept at room temperature over a long period of time. (that's what happened to ours in the resource room over a few years)
Magnets have a magnetic field
The magnetic force of a magnet can pull magnetic materials to it if the materials are close by.
Magnetism is named after a type of magnetic rock called magnetite. It is magnetic because it contains iron. Large amounts of magnetite were found in a place called Magnesia over two thousand years ago
ZERO WASTE
In Room 1 we are trying to focus on becoming more responsible citizens of this world through making an effort being more 'waste wise'. This is our way of making amends for generations who have 'slapped nature in the face', we'd like to be part of the healing process, true guardians of creation.
Why try reduce, reuse, recycle, upcycle...why zero waste? It's basic, our planet that was has been entrusted to us by God, is becoming more and more damaged, the plants, trees, insects, animals, quality of water, quality of air are all seriously affected through our ignorance and greed. We take more than we need, we dispose of more than we should, we keep discarding or throwing 'away' what we no longer desire, need and most of all the packaging our purchases, from food to toys and clothing come in. Let's think about the word 'AWAY'…where is 'AWAY', take for example something as simple as the plastic bag we buy bread in…we no longer need the bag once we've used the bread, so we throw it 'AWAY'…where? Into our rubbish bin…yes, we no longer have it, or see it, it's thrown 'AWAY', where does it go? The rubbish truck collect it, along with all the other 'AWAY' stuff, where is it taken? To landfill? To a sorting station? Well, we don't really know, but it's 'AWAY' so that is good! (for us!). NO, it's not good…these are the sorts of things that are ruining our beautiful planet.
We all need to do something to help!
Here's a few ideas to consider.
Some of us are trying to have Zero Waste lunches, i.e. we pack our lunch in containers rather than little plastic bags or plastic wrap, some of us have replaced plastic bags with the more eco-friendly, biodegradable brown paper lunch bags.
Some of us are trying to encourage our parents to purchase larger boxes, bags of biscuits, shapes, etc and we just put what we need into our little containers, that we we're reducing the amount of plastic or general packaging coming into our homes, and that means less goes out into landfill. It is also way cheaper to buy the products in larger quantities, than the little convenience bags.
Mrs Massari has decided to use ETHIQUE shampoo and conditioner, which to begin with is pricey, but it lasts 3-5 times longer than the liquid shampoo in bottles. It comes in little boxes, so there is no plastic, the boxes are 100% biodegradable.
Many of us don't use LIQUID SOAP, our parents purchase 'cakes' of soap, this means only one wrap to dispose of, not heaps of plastic pump bottles. The 'cakes' of soap last 3 times longer than liquid soap, and are so much cheaper. Let's see when you research the difference cost 'cakes' are 8-9 times CHEAPER than handwash in pump bottles. That's a huge saving.
Ask yourself these questions:
Consider how much water you use, could you take shorter showers?

Do you NEED to leave the tap running while you are brushing your teeth?

How many lights NEED to be on in the house in the evening?

Do you use reusable bags?

Do you take your own containers when buying takeaways, such as sushi?

Do you use a reusable coffee cup if you're a takeaway coffee person?

Do you use plastic straws?

Do you buy NZ fruit and vegetables, or grow your own?

Do you compost your fruit and vegetable scraps?

Do you think about our planet everyday and what you could do to help it?
LET'S WORK TOGETHER TO HELP PREVENT FURTHER ENVIRONMENTAL DISASTERS! We can, if we try! It's up to us!
SOUP FOR SOCIAL JUSTICE
As part of our Social Justice focus this year, Room 1 decided to make soup for one of the local soup kitchens, as well as for St Vincent De Paul to distribute to families who could do with a wholesome, healthy meal.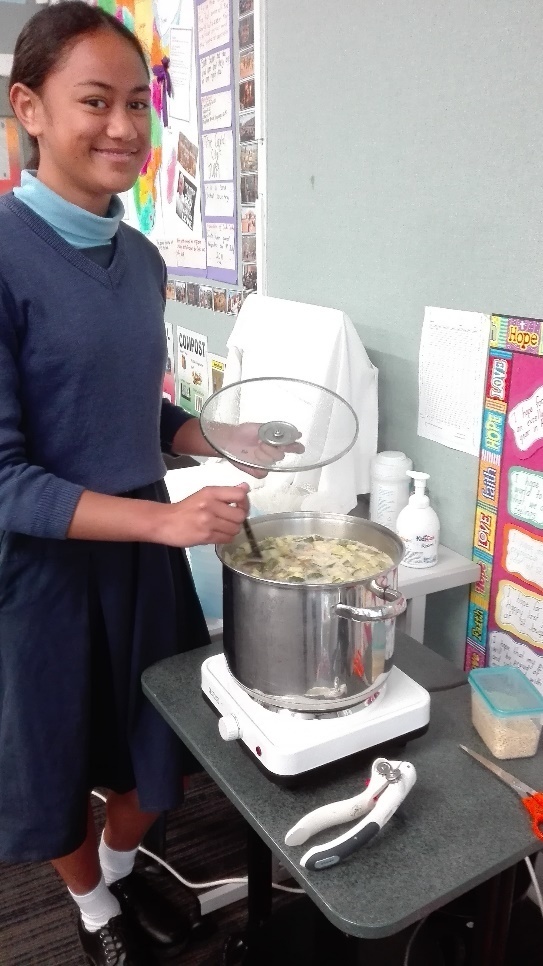 Each week we take it in turns to bring the ingredients required, one of us will bring a few potatoes, soup mix, a couple of onions, celery, carrots, a tin of tomatoes, chicken stock, a turnip, a swede, and a bacon hock or bacon bones to make it extra delicious and nutritious.
Recently our lovely dental nurse donated an enormous pumpkin her father grew in his vegetable garden. It weighed 19.7 kg! Once we'd peeled, removed all the seeds, and chopped it up ready to make soup…we ended up with 9.7kg of pumpkin! Now that's a lot of pumpkin…we certainly will be making soup for the entire term, most likely twice a week!
Have a look at the size of the pumpkin. Mr Ewing had to wheel it into the classrooms on his trolley to show everyone.